The Difference is Clear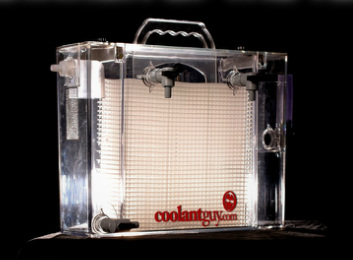 Remove tramp oil and contaminates quickly and easily with the
C-Thru® Separator.
It's patented durable design will keep you skimming for years to come.
Compact
Portable
Easy to install
Mounts Directly to Machine
Takes up no floor space
C-Thru® Separator
patented design is injection molded producing a seam free, extremely durable tank. Carefully chosen chemical resistant resin can withstand aggressive chemicals such as
sodium hydroxide, sulfuric acid, mineral oil, kerosene, diesel fuel and isopropanol.
The tank has withstood being dropped from over 15 feet onto cement, hit with a 8 pound sledge hammer and driven over by a 10,000 pound truck.
---
---
Benefits:


Extended fluid life

Reduced wast disposal

Increased tool life

Simple and quick installation
No consumables
Compact
No floor space utilized
Easy to clean
Patented, transparent design

C-Thru® Separator
can be used in many applications


CNC Mills
CNC Lathes
Grinders
Wash Systems
Dip Tanks
Mop Water reclaim
Evaporator hold tank
Coolant recycling tanks

---
How the
C-Thru® Separator
Works

Attach the C-Thru® Separator to the machine using the magnetic mount.
A float (4) connected to a pump (3) electric or air draws tramp oil from the surface of fluid and pumps it into the C-Thru® Separator (8).

As the fluid and tramp oil flows through the oil loving media pack the oil gathers and floats to the top of the C-Thru® Separator. The oil is then drained into a waste container
Clean fluid is then returned (6) to sump.